15 Must Haves You and Your Psychiatric Service Dog Can't Live Without
Toys, treats, and daily necessities that make life easier and happier for you and your psychiatric service dog.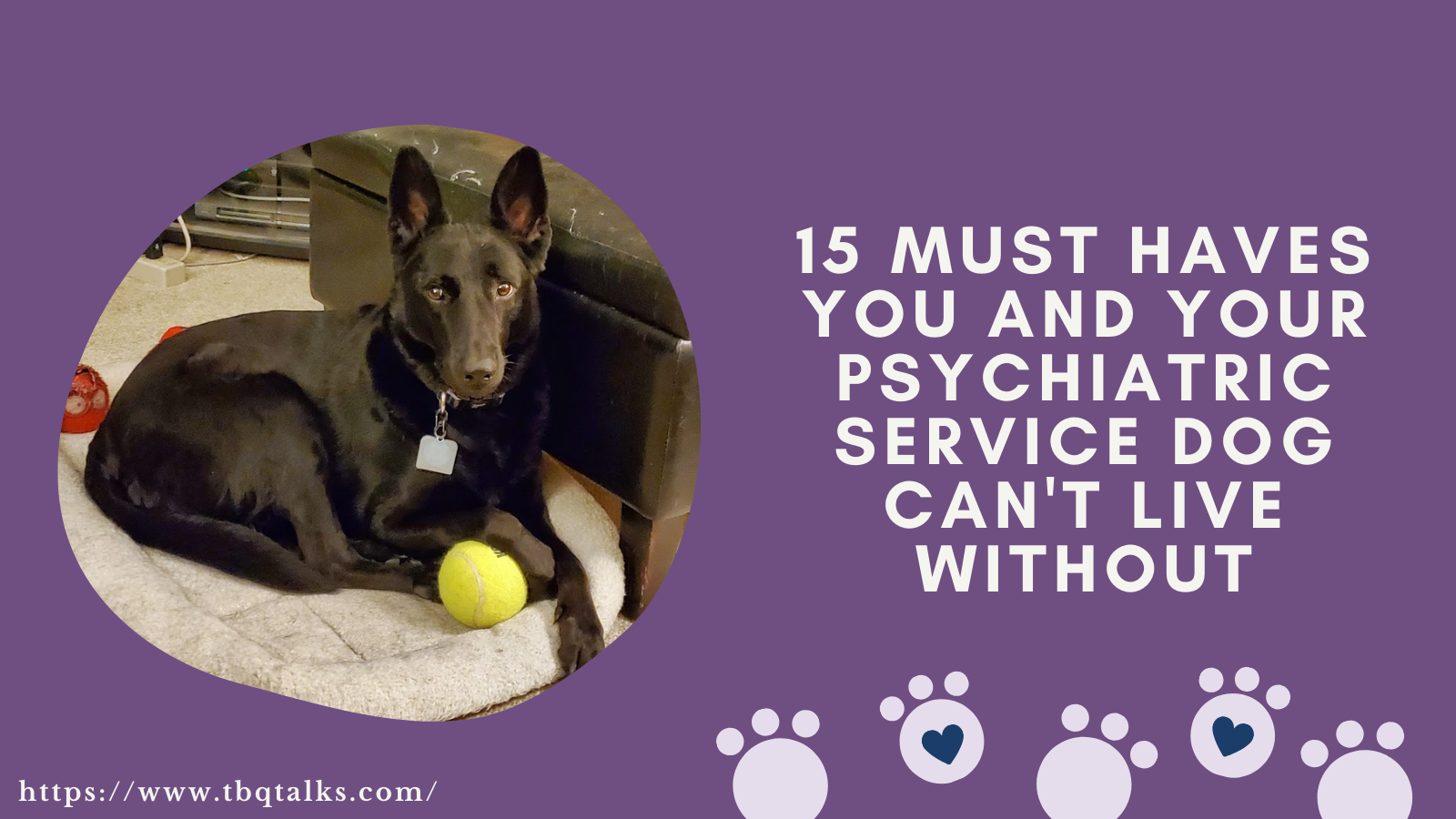 Disclaimer: As an Amazon Associate I earn commissions from qualifying purchases via links to Amazon in this post.
Note: The following are my recommendations based on personal experience. You should always check with your dog's vet and trainer (if applicable) to confirm if any item is safe for your dog to use, and what foods and treats are appropriate for your dog to eat.
---
Intro
As someone who works with a psychiatric service dog I've found that there are some things I truly can't live without. Yes, there are things that any dog owner needs, such as poop bags and toys. But those of us who work with service dogs have needs on top of those. For example: things to account for much time we spend with our dogs, things which do not make any of our symptoms worse, and so on. Service dogs also tend to be larger breeds who need tougher toys, and working dogs who need things to keep them from getting bored if they aren't called upon to task that day.
To that end I've compiled a list of items I have found to be incredibly helpful for working with my dog and I thought I would share. I've added in explanations of why these items in particular work for me and my dog so you can understand how they help for the unique needs of a service dog team. That way it will hopefully help you decide if these things might be useful for you as well.
If any of the items interest you, you can click on the pictures or the provided links to buy.
Let's get into it!
---
Daily Life
When your dog is with you all day, the durability and comfort of the leash matters. I've found that these Vivaglory leashes are ideal. The padding makes it easy for me to hold for long periods of time and the two handles are great for the on the fly adjustments you need to make when you're encountering people or new situations. I have these in multiple lengths and can't recommend them enough.
If you have a dog, you have to clean up after them. And if you have migraines a scented poop bag is worse than the smell of what you're picking up! These Earth Rated unscented poop bags are perfect. They are sturdy, truly have no scent, and are environmentally friendly to boot. I don't leave home without them.
I was given this as a gift and it is worth its weight in gold. This PetAmi pouch is the perfect bag for keeping by the door for any time I need to take her out, be it for a walk, going potty, a quick visit with family, you name it. It holds all the immediate supplies I need for her as well as having plenty of room for my phone, keys, and wallet. I love this thing.
Keeping her hydrated on the go is important. I've found that collapsible dog bowls do the job better than bowl/bottle combos. They take up less room in your bag and you can fill them from your own water bottle or other drinking source. I keep one of these in each of my bags (including one in the pocket of the treat pouch) so we're always prepared.
Vests aren't required by law but they help avoid a lot of hassles. This smaller vest is great for letting people know she is working but doesn't run the risk of overheating her during the hot summer months. The reflective stripes are great for visibility at night as well.
I'll be honest: this wasn't to protect my back seat from my dog but my dog from my back seat after a snow brush exploded bristles all over it! But still, it's a durable cover and what I love is that it's easy to install and also adjustable if you need someone to share the back seat with her. Of course this does not protect from the danger of her giving that person kisses during the ride.
A trip for you is a trip for your service dog. This travel set has everything needed to let you bring the food and treats you need for a several day journey with your pupper. It's also good as an emergency bag if you need someone to take care of your dog while you're in the hospital for a few days.
---
Toys
If it squeaks, she adores it. The sad thing is most squeaky toys are too fragile for her German Shepherd jaws. These Kong tennis balls are sturdy enough to hold up to even her enjoyment. I keep plenty of extras on hand so we're never without in case she loses one.
Smart dogs need their brains exercised as much as their bodies. I soak and freeze dog food inside of it overnight and let her have the fun of figuring out how to get it out of the Kong as both a snack and some playtime each day. If I forget to give it to her she reminds me, so you know it's a hit.
Another for the list of things to give your smart dog as much mental stimulation as they have physical play. I'll be honest though: she managed to figure this out almost as quickly as I put it down. But I'd still recommend it as a place to start if you're looking for puzzle toys for your dog. We won't talk about whether she solved it faster than I put it together. Ahem.
This toy actually provided a challenge for her to solve. The version I have is an earlier model but the mechanics are the same: the dog has to figure out how to slide pieces and open compartments in order to get to the treats inside. It took her about fifteen minutes to solve instead of five. Again we won't talk about whether she was faster than I was at figuring out how to work it.
---
Food and Treats
Extra disclaimer here that you should always coordinate with your vet on what to feed your dog. But here's my experience with the following to help you when discussing your options.
When you're going in and out of public buildings you have to be careful that you're giving your dog food that is good for them and their digestion. The last thing you want is a messy accident in the middle of aisle five! Taste of the Wild is a grain free dog food which is perfect for her nutrition needs and her - ahem - schedule.
Gotta take care of those teeth! She loves these so much I was able to use them to train her to bring that Kong I just mentioned into the kitchen for cleaning in exchange for getting one of these. This is much more a testament to her intelligence than my training skills, but even so she still considers them a worthy reward and not a chore to eat. Her recent annual checkup confirmed that her teeth are nice and clean, so they're working for us in that regard as well.
Knock wood we've been lucky that she's never needed to take medication often. But on the rare occasions when she both needs to take something and it doesn't already come in a treat-like form, these pill pockets are a perfect way to get her to eat it. She enjoyed it so much she now thinks the sound of me taking my medication is a signal she's getting a treat. I neither confirm nor deny if I find her too cute in these moments to deny her.
She LOVES bully sticks. If the house was on fire it'd be a toss up between saving me or the sticks, I tell you. I save these as a treat for days when she either worked especially hard or when she has to be extra good and patient for a few hours (she'll sit quietly for as long as she has a stick so it's reinforcement/reward all in one). Again with migraines scent is so important and I love that these truly are unscented. No gross smell either while they're stored or once she starts chewing on them. Perfect for us who might get symptoms triggered by smelly things.
---
Final Notes
And that does it for my top 15. Naturally there's so much more, but that's a good place to get started.
This last part isn't specifically service dog related but in terms of disability I've found that getting things delivered is a godsend. To that end, if you don't yet have an Amazon Prime subscription you can get a free 30 day trial when you sign up here.
As an extra bonus, if you are on a US government assistance program such as EBT, you can get a 50% discount on a prime subscription when you sign up via this link.
And that's it for now. I hope the list helps. Feel free to hit me up on social media to let me know if you and your dog end up enjoying any of these items!
---
Outro
Want to help support the site and get access to the Bonus Content? Sign up for a paid subscription or donate via Ko-Fi. Thank you!