7 Must Have Appliances That Make It Easy To Cook, Clean, and Keep Cool When You Have A Disability
7 items and related accessories which make take some of the hardship out of cooking, cleaning, and temperature control for people whose health restricts their energy and concentration levels.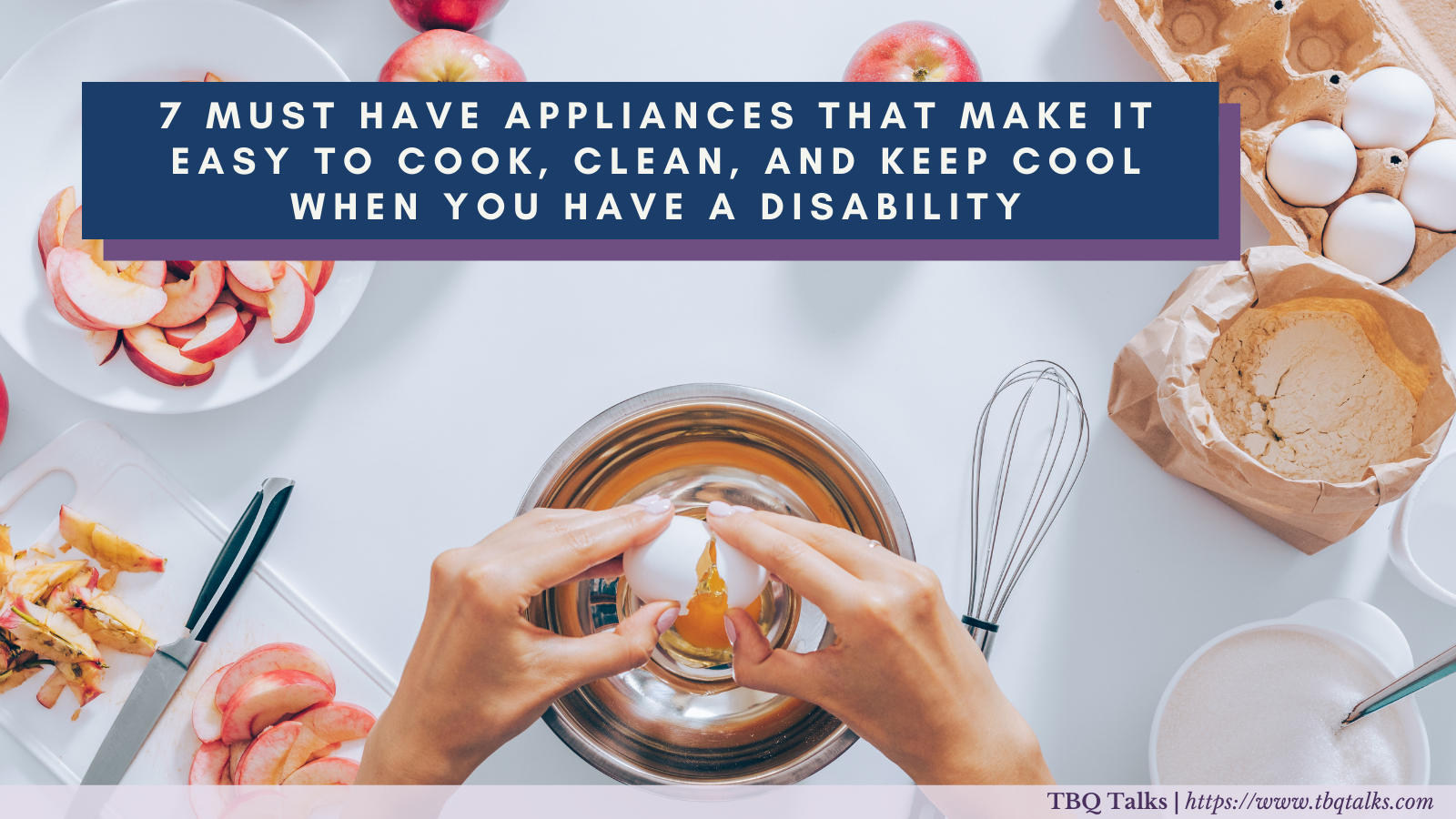 Disclaimer: As an Amazon Associate I earn commissions from qualifying purchases via links to Amazon in this post.
---
Intro
Like many people with chronic illnesses and disabilities, I have a hard time getting basic tasks done like cooking and cleaning. I get into detail about this in my article about Cooking With Disability but the short version is that it's difficult for me to do things which take energy, concentration, and keep me on my feet for long periods of time. This applies for cleaning just as much as cooking. When you then throw in things like the pesky need to eat on a regular basis as well as how I live with two pets who both have black fur, you can see how not being able to keep on top of these tasks can be a problem.
Hence why I have recommendations about products which I've found helpful. I was originally going to call this something like my Top Pandemic Purchases because some of these things were bought directly in response to pandemic needs, but then I realized the list could be more useful if it wasn't so narrow.
Of course I in no way claim that these things will make housework happen like magic. God I wish they did. But at least they remove some of the innate barriers, which in turn makes it that much easier to get the job done.
And as a final bit of lagniappe I'm throwing in a rec on a portable air conditioner because it's a must have appliance for me and I also know it's one people could use recommendations for as climate change keeps turning the temperature up.
Everything here I can recommend based on my personal experience. The exceptions are when the exact model isn't available anymore, which I'll make clear when applicable.
---
Must Have Cooking Appliances
I have raved about this already but I happily will again. The ability to brown meat directly in the crockpot is worth its weight in gold. So many recipes have opened up to me now that I don't have to worry about dirtying more than one pot. The timer and automatic keep warm features mean I can rest and recover for hours and not have to worry if I'm not well enough to race back to the kitchen the exact second the timer goes off. If I had to pick one single item on this list which has been a game changer for me and worth every penny, it's this one without question.
Ironically the rapid nature of Instapot cooking does not work well for me. I need the time to recover after prepping food and my anxiety doesn't do well with a clock that quickly counts down. However, I know that some people have lives and needs for which an instapot type cooker works better than a slow cooker. So to that end I can say that I have this classic Instapot and when my health let me use it I did love it. So if you're looking for recs in that direction, I would point here.
ETA: TBQ Krewe member @ReganSD on Twitter had this helpful advice for InstaPot usage: "The instapot is also genius for reheating meals from frozen. Not as fast as a microwave but all the fuss happens at beginning not having to stop midway and stir stuff. You can put it in, rest, then eat it." Thank you for the tip, Regs!
I would not call an air fryer a "must have" in the same way I would my crockpot. However, now that I own one I do love it. For me the key benefit as a person with a disability is that it allows for last minute cooking decisions which still use real food. For example I can use it to cook meat like a hamburger or a chicken breast directly from the freezer. This is great for those times when I need to eat something quickly but didn't have the ability to put something in the crockpot hours earlier or defrost something in advance. And those of us with disabilities know the feeling of how often we put meat in the fridge to defrost only for it to go bad before our health is well enough for us to cook it. So yes, big fan of my air fryer. Plus it toasts bialys like a champ.
Again not a "if you only buy ONE THING" item but still a helpful item. I mean first and foremost it flawlessly cooks rice so yay for accurate labeling. But also the ability to easily have rice on hand is hugely helpful when your body rebels against complex foods because of a symptom flare up or reaction to medication. I've had more than one occasion where the only thing I could eat for days was some rice and broth, and being able to dump rice and water into the cooker and not have to worry about it for multiple servings was perfect. Though my favorite use for it is making overnight steel cut oats, so consider that my little protip.
---
Must Have Cleaning Appliances
I live in an apartment without a washing machine hookup. My apartment complex has laundry rooms but going outside to clean clothes when you have agoraphobia is not a fun combination. Suffice it to say there were many days when I simply did not have clean clothes to wear (yes, including you know what) and that was before the pandemic made sharing facilities with random neighbors a risky proposition. Enter this portable washing machine which is my top two purchase after the slow cooker. I wheel it into my kitchen, easily hook it up to the faucet, and can do as many loads of laundry as I want in the comfort of my own home.
Size-wise the maximum load I've been able to fit in my 1.6 cubic foot model is an entire set of queen size sheets (so top, fitted, and two pillowcases). This is smaller than a regular laundry machine to be sure so when it comes to things like sheets, towels, and pants I may need to do more loads of laundry than I would with the shared machines. But on the other hand I can do laundry whenever I like and not have to worry about weather or plague getting in my way so this is more than an easy trade off in my opinion.
There is one must have accessory with the machine though, and it's this:
The washing machine comes with wheels but the unit is heavy and difficult to maneuver if that's all you use. Granted, some people may have setups that allow them to keep the machine in one place and not roll it back and forth from room to room, in which case you don't need to worry about it. But if you will need to move the machine in order to use it get the dolly. It makes the machine instantly easy to push around, even when you're going over carpet. Fair warning you may need someone to help you get the machine onto the dolly but once it's on there it's solid.
I prefer air drying as a concept because it's better for clothing and for the environment. As someone with chronic illnesses like migraines I also prefer it because it cuts down on chemicals and smells in my laundry. If you don't have access to outdoor clotheslines, a drying rack like this is a perfect indoor replacement. It holds all kinds of laundry types and then folds up small when not in use. (Full caveat this isn't the specific model I have, but that one isn't available anymore and this one looks exactly the same other than color.)
The washing machine can't have all the fun, right? Like I said, I've got a cat and a dog and they both have black fur. Plus I shed too, let's be honest. I went through a few vacuums which didn't work (cough brand name rhymes with whistle cough) but this one hits a lot of my needs. It's powerful enough to reclaim my carpet from the pet hair, it's easy to switch from floor to attachments so I can reclaim the furniture from the pet hair, and I can dump the collected dirt out without having to touch any of it.
It isn't self-propelled so if needing to put even a little strength into vacuuming is too much for your disability needs then I wouldn't recommend it. But if your bigger concerns are ease of use and power I absolutely would.
---
Keeping Cool
Last but not least we have this portable air conditioner. Full caveat that I specifically bought this model and not the other sizes which are available, but I can still attest to how in general Black and Decker's portable air conditioner is plenty powerful even for my medication and illness induced heat sensitivity. (I don't do well at temperatures above 72° F/22° C , if that helps you compare to your own heat tolerance.)
Also it is very easy to set up. All you need to do is connect the vent tube to the air conditioner and then to a nearby window using the provided attachment. Even with my anxiety and disability this takes only a few minutes, longer if we include how needing to setup something by my window makes me keenly aware of how dirty the window is and how I should probably try to clean it while I'm there. Ahem.
The filter is super easy to clean too, which again is a big help in the house of the three shedders.
As with the portable washer, there's one accessory I would recommend which is:
The air conditioner comes with foam you can use to plug up any possible cracks made when the adapter doesn't match to your windowsill perfectly, but I find using this weather seal tape is much easier. You can easily tape up anywhere a draft might be and then move on with your life. The tape comes off easily if you take the vent down so you can close the window in the cooler months. Much better than futzing around with foam if you ask me, especially for the price.
---
Final Notes and Discounts
And there you go! A quick and dirty list to be sure but still items that I find are absolutely worth recommending.
As I've mentioned in my list of recommended service dog supplies, this last part isn't specifically appliance related but in terms of disability I've found that getting things delivered is a godsend.
To that end, if you don't yet have an Amazon Prime subscription you can get a free 30 day trial when you sign up here.
As an extra bonus, if you are on a US government assistance program such as EBT, you can get a 50% discount on a prime subscription when you sign up via this link.
Also be aware that if you're on EBT Amazon has SNAP eligible groceries and free delivery available via this link. I know many grocery delivery services don't take EBT so this could be very helpful for those like me who have a hard time getting to the store.
And that's it for now. I hope the list helps. Feel free to hit me up on social media to let me know if you end up enjoying any of these items!
---
Outro
Want to help support the site and get access to the Bonus Content? Sign up for a paid subscription or donate via Ko-Fi. Thank you!